I know the title of this blog post sounds very dramatic but it is very true for what I am going through right now. For those of you who do follow me on
Twitter
, you know what I am going to talk about. Exactly one week ago I started getting sick. I went from runny nose to fever, coughing and voice changing in less than three hours. It freaked me out so I made the decision to go home that afternoon. Now it's exactly one week later and I sound like a man. NOT A GOOD THING! I have had instances this week where I had trouble breathing because of the phlegm in my throat. I googled "How to get rid of phlegm" and I found out that soy is the number one food that causes the worst amount of phlegm possible. I DID NOT KNOW THIS! For the past week or so, I have been having soy milk to go with my cereal every morning since it's a quick breakfast. For those of you who don't know, I am lactose intolerant; therefore I cannot have regular milk. I knew that regular milk causes more phlegm so I did not think I had to worry since I was having soy milk. LITTLE DID I KNOW I WAS FEEDING MY PHLEGM THE ENTIRE PAST WEEK! I am so mad at myself for not knowing that! So now I am drinking tons of warm liquids and eating lots of Congee (a special Chinese rice porridge).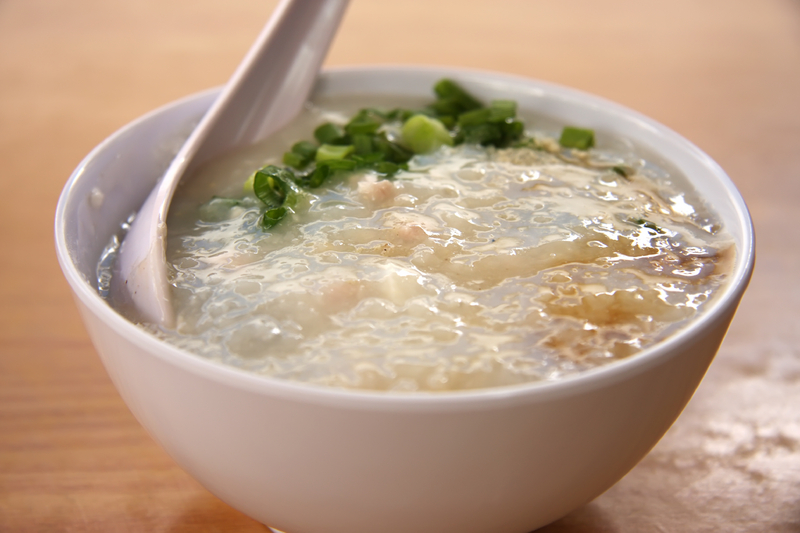 Congee
You have no idea how hard it is to not talk. I want to talk so badly but it makes my throat hurt so much! So appreciate the voice that you got right now and use it wisely! I will be writing a blog post about
IMATS Toronto 2012
very soon. I have very strong opinions about IMATS Toronto this year. Both good and bad. So watch out for the video and the blog post within the next few days.